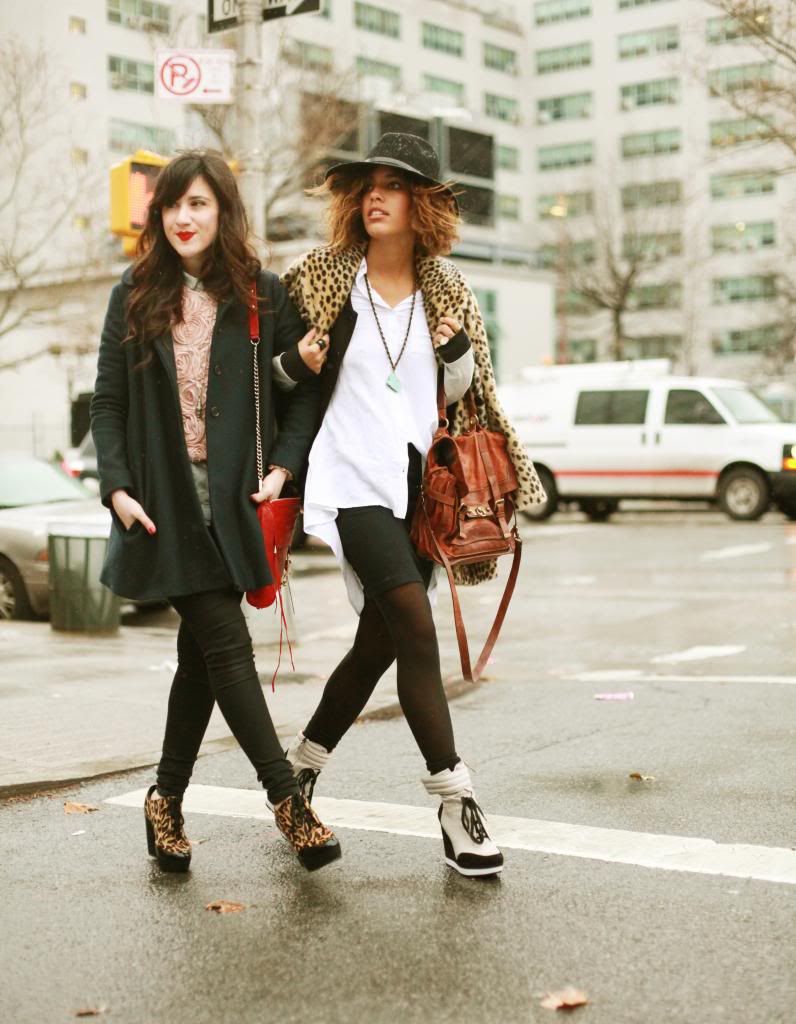 Blouse: (x)sml (similar), jacket: Blue life, skirt: American Apparel, coat: F21 (similar), shoes: Nine West, bag: Frye, hat: Rag and Bone, necklace: Vanessa Mooney.
Sorry guys about deleting and posting again I had some problems on my end with the layout. And comments were not coming up etc...
There is so much to love about these girls. Don't know what I'd do without Bonnie and Claire in New York. I love that we are all so different yet mesh so well together. You'll always find Bonnie in Union square on weekends just soaking in the holiday sprit, when Claire is not being arty farty at Parsons ( haha ) then you'll find her nose deep in a record store and 90% of the time I'm bumming around soho at my favorite coffee spot. Obviously when Nine West asked us to team up and re- create the
Nine and the Gang campaign
we were all super stoked.
We wanted to do something a little different, so we decided to style and re-create the sneaker look from the campaign. This style was super fun to play around with, so much room for imagination, plus isn't it nice to step outside of your comfort zone once and a while? I really like how Bonnie found the balance between edgy and feminine while Claire went for a more 90's grunge look, a simple white t-shirt is also my secreat weapon! I really wanted to compliment the others with my grey tones and leopard jacket and duh I had to pull out the token pencil skirt..I mean who doesn't love a good pencil.
This is my gang, what's yours? Share your gang photos on Instagram or Twitter tagging @NineWest with the hashtag #NineAndTheGang and you can win free shoes for your entire gang! Official rules can be found online here.