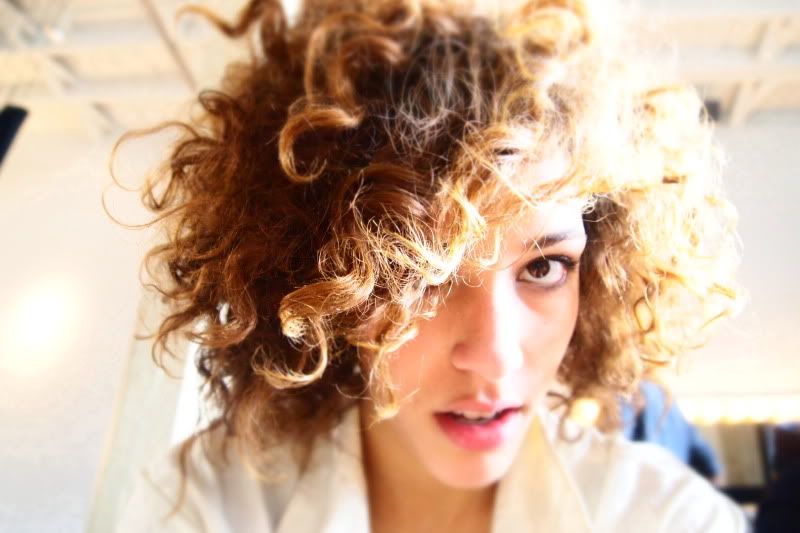 I've been getting a lot of emails and
twitter
questions
tumblr
questions all about one thing in particular..my hair.
How do I maintain it? How do I get my hair super curly? Is that your natural color?
Is that your natural color?
My color is real. I have tried to make it darker once but it didn't work out. (here). I have naturally reddish hair/light brown. And when there is a lot of sun it changes in color. In the summer When I'm at the beach my hair turns practically golden. My roots are always dark, but once it starts to grow out it changes it's mind and goes another color...no joke.
What is your ethnicity?
I'm black and white, French Italian.
How do you get your hair so curly?
I don't actually have a secret to this one, I was born with super curly hair.
But I can tell you how I maintain it and keep it looking somewhat healthy.
I braid it at night if i'm sleeping with dry hair. If it's wet then I pik my hair out with a wide inch comb and then sleep with loose wet hair. in the morning my hair is dry and the bed and me tossing and turning gives it a slept in look...literally! ha-ha. I then use a dime drop of Moroccan oil and run my hands through it with my hair upside down.
Do you have a special hair cut??
No and yes, I got my hair cut into layers a while back and it pretty much stayed. My hair takes a long time to grow out. My hair is cut longer on the right side of my head and shorter on the left...I have one piece on the lift side bang that is long. I use this piece to flop over the the right side of my head which creates some volume.
I hope I could help. if you have anymore questions feel free to email me or ask on
tumblr
or
twitter
xoxo